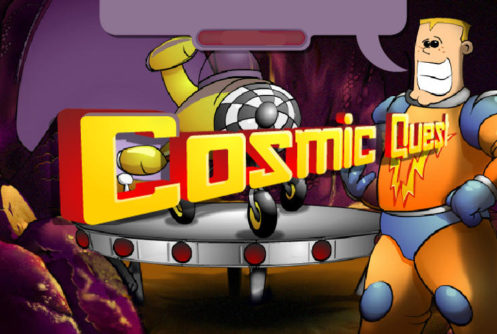 Cosmic Quest is known to be a classic game that's very famous in many online casinos for years. It's a game made by Rival, and is considered to be one of their best-selling games of all time. Cosmic Quest is now called as Cosmic Quest I because it already has a sequel (called as Cosmic Quest 2: Mystery Planets) that contains as many surprising features just like this game.
Cosmic Quest is a space-themed slots game that's quite cartoonish in terms of its theme. This is a game where a space explorer with be your assistant. But what you're going to explore is the space of riches where you can get winnings depending on the space-themed symbols that you got on the reels. The reel is framed to appear like an interior of a spaceship, and the symbols are aligned in a 5×3 grid that has the outer space as its background. Symbols related to space and other sci-fi based items are available in the game as part of its paytable and you can play up to 25 paylines to increase your chances of winning.
So if you want to take an adventure in this quest, start operating the spaceship through its controls. There's the bet max button to bet at the highest amount possible, or you can adjust the bet and paylines before pressing the spin button. Autoplay allows you to sit back or do whatever you need to do as the machine automatically bets for you – like how an autopilot works.

Return to Player Rate
The game has a 95.00% RTP. It means that 100 spins with a bet of $0.01 (the lowest amount in the game) in each spin can guarantee you a $0.95 return on your money. You can also calculate every 100 spins that you make if you're diligent enough in calculating your estimated winnings for every bet that you made.Most casino players consider 95% as a fair rate for you to win or lose.
Bonus Features
Wild Symbol
The wild symbols – which are the rockets – help you replace the normal symbols in a certain combo so then you can land more combinations easier. Landing 5 wilds on an active payline lets you win the jackpot prize!
Scatter Symbol
Your space monkey assistant is the scatter symbol of the game. These can award you with 10 free spins. The free spins round makes the rockets zoom on the whole reel where it is in order to make the whole reel wild.
Sexy Pilots
A sexy pink pilot will trigger a bonus called as the Asteroid Blasteroid. This is a bonus level where you can win a lot of prizes if you manage to blast the asteroids quickly. So this is a mini-game that will test your gaming reflexes.
The Verdict
So if you're up to the mission to become a space soldier and protect your planet from any impending doom from outer space, then play as a space cadet in this mission. But take note that your real mission in Cosmic Quest is to get as many winnings as you want. So be sure to explore this deep space for you to find the riches that are hidden in it. We're sure that rocket will bring you towards a lot of winnings as well!