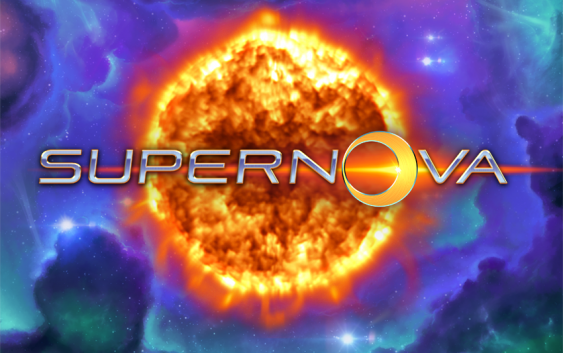 The most probable reason why many slot games are space-themed is because getting rich can make you feel more like sky-high. After all, having a lot of money can make you reach almost anything in this world. That's why Supernova by Quickspin was made in order to make you feel like you can go anywhere if you manage to win big in this game.
Supernova is a space-themed game that's set on outer space. It is a 5 reels 27 paylines slot with a max bet of $50 and 500 coins jackpot. The reels of the game are separated into two: reels 1 to 3 contain the normal and wild symbols, while reels 4 to 5 are the multiplier reels for granting you multipliers on your next spins. Various gyroscopic phenomenons from outer space serve as symbols in the game. These include a star that's undergoing a supernova and a black hole.
To begin this dangerous, yet very fulfilling quest of seeing a Supernova in the form of a slot game, then start placing your bets per line before pressing the spin button. You can also do autoplay for a faster way to bet comfortably, along with bet max for betting the highest amount possible.

Return to Player Rate
The game contains a 97.05% RTP rate for players. That means betting a set of 100 spins at the max amount will give you the 97% of 50 multiplied by 100. You just have to do the math to figure out your own RTP rate if you're betting on multiple amounts for 100 spins. This RTP rate indicates a higher chance to win bigger with a chance to lose lesser.
Bonus Features
Multipliers
The game has multipliers that starts with 2x and can reach up to 10x which are applied randomly depending on which multiplier you land on reels 4 and 5. Matching the multipliers helps you multiplies your winnings for multiple spins. Random multipliers occur as the 4th and 5th reels change the multipliers that you can get for every spin that you make. This means there's always a chance of lowering or increasing your multiplier. Be careful for the black hole in the 4th and 5th reel as it can stop the multipliers.
Wild Symbol
The game contains a wild symbol that has the words WILD on it. This substitutes all of the symbols except for the multiplier symbols.
Verdict
Supernova will take you to the outer space of betting through the use of the colorful phenomenons that it has shown – which actually occurs in outer space. This game also guarantees you a decent way to win based on its high RTP and the multipliers that can help you get more winnings than ever. So test out your luck in this game to see if outer space will really make you reach everything with your own hard-earned riches.